Cabinet Accessories
RS485 Interface
The cabinets controls and monitoring, as well as the feeders all communicate with the main computer via a two wire RS485 interface. This is a highly reliable and efficient protocol that saves on wiring in the room.

Sensor Board
A sensor board is available for monitoring temperature, humidity and relative light activity. This board communicates with
Actimetrics Chamber Control
software which provides graphic reporting.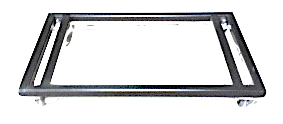 Steel Frames
For cabinets stacked on top of each other, tubular steel frames with locking wheels are available.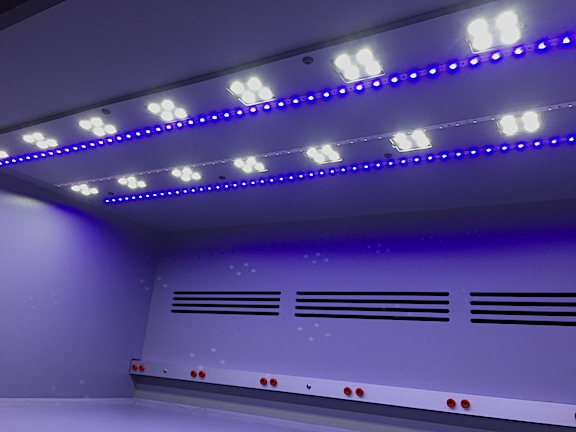 Colored LEDs
We can provide custom lighting and control for our cabinets. These blue LEDs are controlled separately from the white LEDs and the red LEDs provide a dim working enviroment. Other colors of red and green are available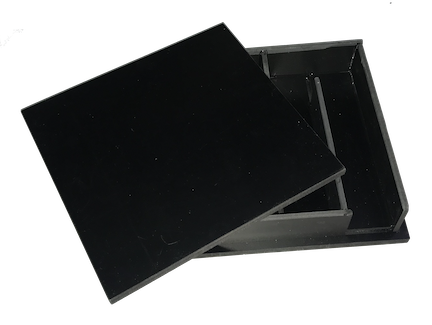 Cable Pass
Customers who need to have cables to their own equipment in the cabinet, can use this cable pass to keep the cabinet light sealed.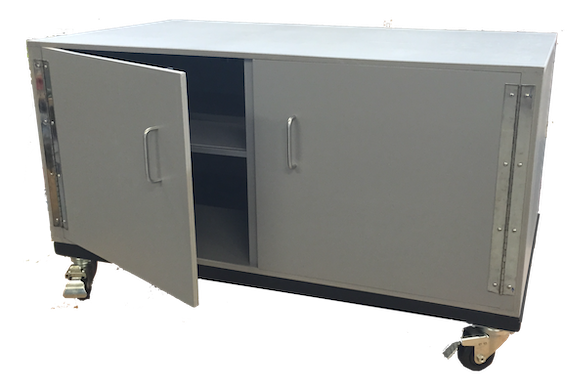 Cabinet Riser
To make a single cabinet easier to access, a riser can be provided. Most are 18" high, but can be higher and can come with doors.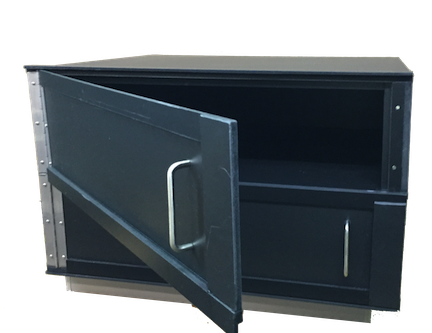 Shuttle Box
This is a smaller light tight cabinet for moving animals from facilities to the lab. It can hold 4 home cages in each compartment. We can supply a cart or you can use the one int he lab.
Cabinets and Caging
Our flagship product is the circadian cabinet. Each cabinet can be customized to work with your computerized tracking system, or directly work with Actimetrics Clocklab data collection and Chamber Control software. Standard features include LED lighting and rails for collecting wheel cage data. Cabinets are easily cleaned and accessed, and can be modified to accomodate different equipment. Cabinets cab be sized for mice or rats. In addition, we build rat and mice wheel cages for behavioral studies.



Observational Cabinet

Includes heating control, ventilation. Uses lamp time for light control. Lights and heat can also be controlled using

Actimetrics Clocklab software

. 40" x 32" x 22"




Cabinet with slide drawer

Includes data ventilation, and light control. Lights can be controlled and activity data collected using and rs485 link or with

Actimetrics Clocklab software

. Custom sizing. This one is 25" x 26" x 27




Standard Mouse Cabinet

Includes data rails, ventilation, and light control. Lights can be controlled and activity data collected using

Actimetrics Clocklab software

, TTL signals, or Lamp Timers. 43-1/2" x 27" x 23-3/8"




Video Cabinet

Videos can taken from below the mouse chamber. An automatic feeder with can be mounted above the chamber for dropping pellets. Slotted side permit adjustments.16"x 16"x 28"




Cabinet with Cameras and IR LEDs

IR at 780nm produced heat, so extra ventilation was needed. We installed the system for video tracking using the

Stoelting Anymaze system.






Rat Cabinet with Minimitter Platforms

These 3 cabinets accomodate larger rat caging with activity being tracked using Minimitter plates. The cabinets are stacked on a steel platform.





Large Black Cabinet Stack

Dark black and a single open area for customer equipment and experiments.
Dimensions: 60"x24"x24"

Single Level Divided

This cabinet has 4 separate chambers for more light control with a smaller number of subjects.
Inside dimensions: 22"x10"x18"

Hypoxia Testing System

This system uses

Okolab Controller

for hypoxia experiments,

Actimetrics

software for data collection and light control, our automated feeders, and PIR sensors for monitoring non-wheel activity. In addition, a platform riser is being used to make the chamber easily accesible.






Thermoneutral Cabinets

This design will provide heating of the cabinets up to 35 celsius. They passively cool to the room's temperature.




Cabinet with Adjustable Shelves




Divided Cabinets with Feeders

These two cabinets have dividers so that 4 separate feeding and light schedules can be programmed.




Sound Attenuated Cabinets

These cabinets for rat caging have double walls with a heavy rubber/foam sound dampening material inside.




Mobile Stack

This stack is mobile and has venting that can quickly attach to an independent air system.




Larger Cabinets in a Stack

A stack of 3 cabinets. Smaller doors are used to protect the light seal integrity. They are supported by a larger 2" tubular steel frame. A cable pass is installed on the left side of each cabinet.
Each cabinet is 54"x 29"x32"
List of diverse features
and requirements:
heat/temp/light monitoring
automated feeders
thermoneutral control
cabinets for hypoxia
sound dampening
vibration isolation
attachment ductwork
RF shielding
platform risers
clickless switches
mobile platforms
data rails
Activity and Cages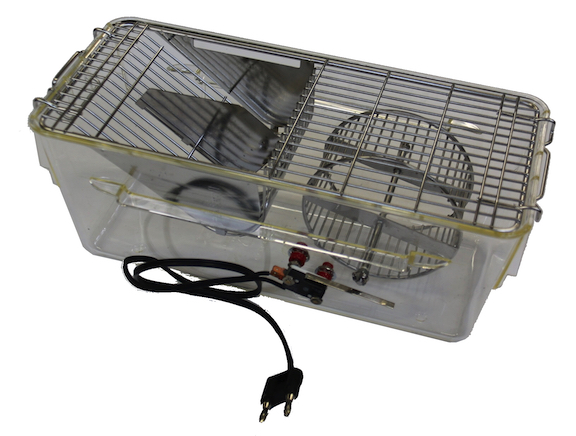 Standard Wheel Cage
Tecniplast polycarbonate cage. Stainless steel lid and wheel. Wheel is 4-1/2" diameter.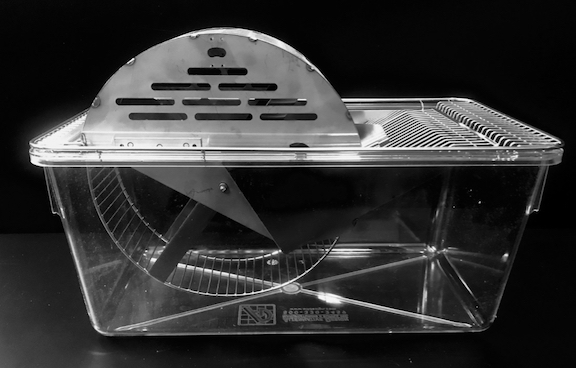 Rat Cage with Wheel
Standard rat cage with modified lid holds a 10" running wheel. Includes a magnetic sensor for monitoring. Bronze bushings for quiet running.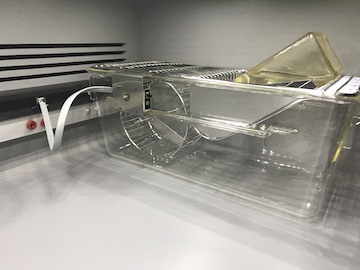 Silent Switch
The silent switch clips to the side of the cage for easy access.
Breakout Boxes
For customers who have other manufacturers' cabinets or are not using any, we have breakout boxes for connecting wheel cages to the Actimetrics Clocklab usb interfaces.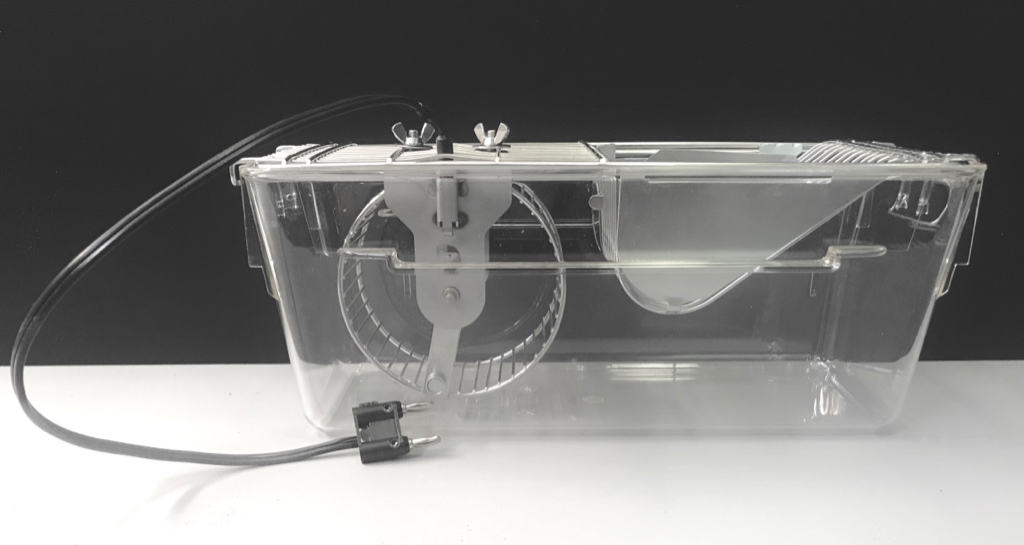 Magnetic Wheel Mount
This mount will hold a 4-1/2" mouse running wheel. Stainless steel with an easily removed magnetic sensor. Bronze bushings ensure silent wheels.
Data Rails
Data rails come with the cabinet for connecting to switches on cages. Two types are available: traditional with the dual banana plugs, and/or one with RJ11 powered jacks for silent switches.